Tenma Electric Industry is the crane manufacturer with the largest share of refuse cranes in Japan.
We aim to become the world standard.
We strive to become the only one in the refuse crane industry.
Philosophy
"Company of ideas"
Our cooperate philosophy is company of ideas.
We have the idea to be a corporation contributing to improve the global environment.
We consider a management that suits going public in the future as an ideal.
We shape the idea for the future to become the dominant company in particular industries.
To become a company of ideas, we always have an eye on the future.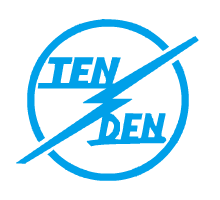 Message
We are a company taking part in creating a beautiful environment, always with an eye on the future.
In January 2000, the Law Concerning Special Measures against Dioxins came into effect. Since then, every prefecture has regulated companies to control emissions. At that time, the countermeasures for dioxin problems were delayed in Japan. However, due to the efforts of companies and environmental plant manufacturers, and progress in technological innovation, the situation of dioxin issues in Japan has greatly improved through the years. We will move hand-in-hand with companies and plant manufacturers, and aim to contribute to develop energy recovering waste treatment facilities, which will become the mainstream.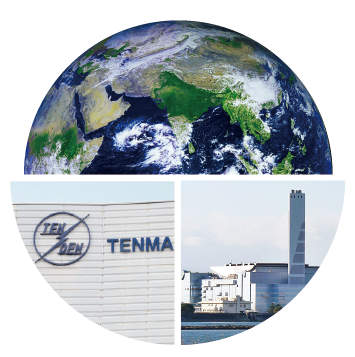 Our "cranes for refuse incineration facilities" are breakthrough products that have worked on speed control, unattended operation, and total automation of transfer robots in disposing facilities. To pursue the betterment of our products, higher in quality and reliability, we constantly research and improve our products. We also support their maintenance, the needs of which are increasing in recent years.
We are challenging to create an organization that can sufficiently respond to the trends of technical innovation such as multi-functionalization of environmental plants, expected to occur in the future. We look forward to your continued support in the future.
Company overview
Company name
Tenma Electric Industry Co., Ltd.
Address
[Headquarters and factory] 2956-10 Ariedai, Onomichi-shi, Hiroshima 729-0141 Japan
[Ariedai second factory] 2956-20 Ariedai, Onomichi-shi, Hiroshima 729-0141 Japan
Contact information
[Headquarters and factory] TEL: +81-848-47-7000/FAX: +81-848-47-7010
[Ariedai second factory] TEL: +81-848-56-1858/FAX: +81-848-55-5227
Establishment
February, 1972
Capital
97,500,000 yen
Representative
Toshiyuki Omura,  CEO
Licenses
Specific new business approved by the Minister of Trade and Industry No. 105
Crane manufacturer license (Hiroshima labour bureau no. 2258/Lifting capacity 305.3 t)
Apparatus installation work license
High pressure gas operation license
Electrical work license
Pressure vessel and second class pressure vessel certified factory
Business lines
Design and construction of cranes
Design and construction of hydraulic buckets
Construction of electric control facilities
Refuse-related plants in general
Multistory parking spaces
Design and construction of industrial electric machines, and more
Major customers
Major plant manufacturers
Recycle business companies
Local governments
Headquarters and factory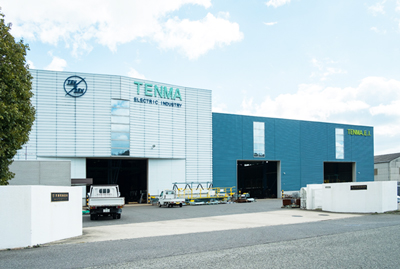 Ariedai second factory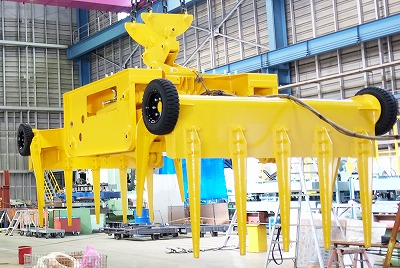 Bucket
Girder
Strength of Tenma Electric Industry
Establishment of total system, through development, design, and construction
We are the only crane manufacturer who designs, produces, develops, and maintains cranes, buckets, control panels, and automation system software solely by ourselves.
In Japan, we are the only manufacturer that can conduct all processes from development and production through maintenance solely by ourselves for all environment-related crane products (including buckets and automatic operation systems).
 Since we have entered the market of environment-related businesses based on our superior technical development and quality management, our market share has been steadily increasing. Our technological competence and quality are highly regarded from various quarters.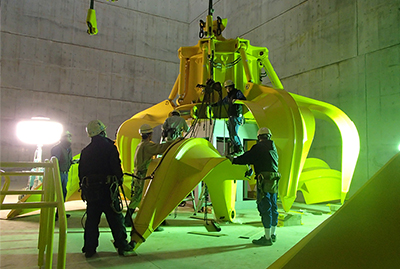 Although construction projects have decreased recently, we receive a steady inflow of orders due to the increase of updating projects for current products and systems, and maintenance projects. As the "Electric" in our company name suggests, we have electricity, control, and machine staff. Moreover, our production department can handle whole processes from production to on-site construction. This enables fast maintenance.
Technological capabilities with know-how that can flexibly match various situations
Our business started from the maintenance service of hoist cranes. Then we created cranes for construction and production. Now our main products are environment-related cranes and buckets.
Our business structure can support from development and production to maintenance. We have the flexibility to take quick actions in response to changes in conditions. In addition, we get ahead of others in producing robot cranes for ash fusing furnace plants and full automatic robot cranes for rackless automated storage.
We constantly improve our technology to develop value-added cranes. We also have enough know-how to support the needs of multi-functionalization of environmental plans, expected to occur in the future.
We have supplied our products not only in Japan but also foreign countries
We have delivered about 2,300 cranes. Eighty of them were for customers in foreign countries including China and Thailand. Our entry into the environment-related business started from the delivery of hydraulic buckets for Shiroishi-shi, Miyagi Prefecture in December 1981. Since then, we have delivered about 1,400 buckets.
We have a lot of achievements and know-how, including Japan's largest polyp hydraulic bucket (cutting capacity: 48 m3) and the clamshell hydraulic bucket (capacity 18 m3).
We delivered our first environment-related crane to Futatsui-machi, Akita Prefecture in March 1989. Since then, we have delivered about 650 cranes, and about 350 among them are fully automatic cranes. Our automatic crane for the Tokyo Metropolitan Government Bureau of Environment Central Breakwater especially earns high praise because there have been no significant troubles until now.
Track record of delivery
Refuse crane
Resource loading crane 
Automatic refuse crane
Receiver crane
Discharge crane
Other cranes
Automatic coil transportation crane
Hydraulic buckets
Fork type bucket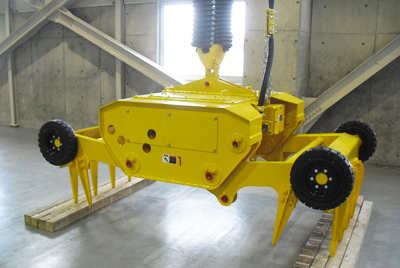 Its two cylinders enable a strong and reliable grabbing structure.
The cutting amount is large and the grabbing efficiency is high.
The structure is robust, and allows easy maintenance of pressure-oil and electricity.
Installation to existing cranes and replacement of the bucket are easy.
Grab type bucket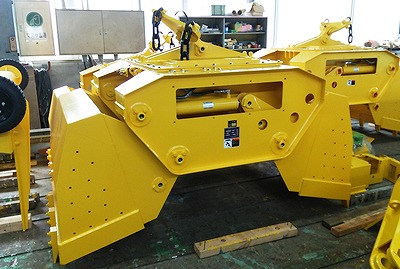 Its two cylinders enable a strong and reliable grabbing structure.
The structure is robust, and allows easy maintenance of pressure-oil and electricity.
Installation to existing cranes and replacement of the bucket are easy.
(We can also make products for other usages such as for upper sand.)
Polyp type bucket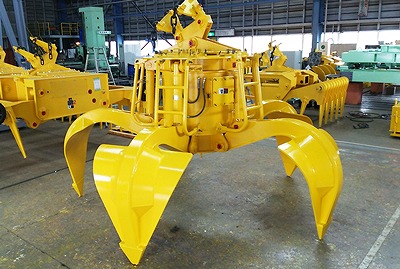 We can create products with 4, 5, and 6 claws depending on the usage.
The structure is robust, and allows easy maintenance of pressure-oil and electricity.
Installation to existing cranes and replacement of the bucket are easy.
It can be used for various purposes.
(We can make products for scraps and other usages.)
Inquiries
We can support various needs other than the above. For estimates and consultation of refuse cranes and maintenance, please contact us using the information below.
Contact person: Yoshiaki Otsuka (Sales department)
E-mail:Here
TEL: +81-848-47-7001
FAX: +81-848-47-7010